About Loomix® Liquid Supplements
"Loomix® was built on a foundation of quality, integrity, value and customer service. These same principles drive our company today." –Kenneth P. Munsch, Director
Loomix is a brand of liquid feed supplements produced by Alliance Liquid Feeds, LLC. Loomix supplements are designed to balance cattle diets, enhancing production. With Loomix products this is done by balancing the ration with supplemental protein, vitamins, and minerals in a liquid form. Providing needed nutrients to balance the diet enables cattle to perform better. The concept behind Loomix products is to enhance the ability of the rumen bacterial population to digest forage; thereby increasing the fiber digesting capacity and efficiency of the animal. Increased fiber digestion by cattle consuming Loomix supplements has been proven by university testing, private research and internal company testing. Loomix supplements feed rumen bacteria. These bacteria provide a significant amount of the animal's energy and protein needs. Since rumen bacteria have very short life spans (some as little as 20 minutes), it is important to maintain a high functioning rumen bacterial population, and Loomix supplements do just that. Fueling the rumen bacterial population enables the animal to more fully utilize consumed forage; thus, increasing the overall efficiency of digestion. Loomix supplements are known for controlled intake. The palatability of Loomix supplements can be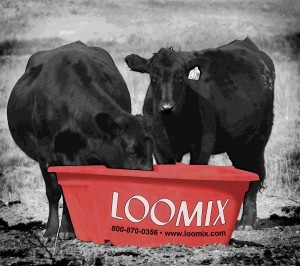 easily altered from very sweet to very bitter products to control intake based on grazing conditions. A combination of sweet and bitter products are on every Loomix dealer's delivery truck that supplies Loomix supplements direct to producers' cattle operations. Loomix products are blended onsite to ensure consumption control; ensuring cattle only received the needed amounts of supplemental nutrients. When you purchase Loomix liquid feed supplements you get more! Loomix supplements fill the gap between what forage delivers and what cattle require.
Readily available source of phosphorous, trace minerals, proteins, and vitamins
Formulas can be customized to meet an operation's specific needs
Loomix supplements provide a great carrier for approved medications and additives
Loomix supplements are delivered directly to cattle.
A highly trained dealer delivers Loomix supplement
The delivered cost is the fed cost
Less labor and associated costs with supplementing cattle
No truck, storage tanks, or large inventories are required
Loomix supplements are available 24 hours a day
Proven consumption control eliminates overconsumption which helps contain supplement cost
Fed in an open-top trough, allows easy access for all cattle
Loomix feeds the rumen bacteria to get the most out of roughage.
Loomix productshave been shown in research trials to increase forage digestion by as much as 34%
In many cases, feeding Loomix supplements make it possible for cattle to effectively utilize lower quality roughage
Service
Save on labor. Loomix dealers do the work of filling troughs
An efficient management tool — records efficiency maintained by dealer
Nutrition services available
Fed price is delivered price
Year-round supplementation program
Liquid
Easy-to-handle and store
Approved additives can be easily added and effectively used
Nutrients are more easily accessible to cattle in open-top troughs
When used as a top-dress, easily mixes into the ration
Makes other feed more palatable
Improves odor and taste of ration when used as a top-dress
Consumption control
Flexible to each operation
Control cost
Adjust nutrients to cattle's needs
Work within a budget
Pasture management
Open Trough Feeding
More even consumption
Easier for timid cattle to access supplement
More cattle can gather around the trough at the same time versus tubs or blocks
Cost
Control cost by controlling consumption
More nutrients available from entire diet
More nutrients per dollar spent
Utilize other feedstuffs
Fiber digestion
Enables cattle to obtain more nutrients from existing feed
Stretch feed cost
Better performance from available forages
Utilize poorer quality feed
Phosphoric acid
One of the highest biological value of phosphorous sources
Reproductive benefit of meeting cattle phosphorus requirements
Experience
Reliability
Problem solving
Distinguished track record with proven customers
Support
Loomix custom mixes
Personalized feed proposals can be done free of charge for your operation
From this proposal, you can have a Loomix supplement formulated specifically for your operation
Protein, vitamins, minerals, medications and other items can be personalized to match the needs of your operation
A variety of liquid ingredients can be used depending on your needs
Contact us today at 800-870-0356 for a custom mix inquiry.