I have spent the last few months traveling from Texas to Montana and Nebraska to Idaho and across the board, if you talk to cow/calf producers, you will hear a common theme: Things are tough going right now. There is no doubt that is true but at the same time, I think we need to look at reality. While there are some issues and warts, there are also some gold nuggets that we can look at and utilize to show that there is hope as we go into this feed season and beyond.
First, let's deal with the warts. If you look at Cattle Fax average prices for a 550# calf, we have seen decreases in prices from the high in December of 2014 of $289.14/cwt to a current price for the same 550# calf at $124.71/cwt. On average. That is a difference of $164.43/cwt. If we look at year over year differences, calf prices are down by $80.50/cwt from $205.21 to $124.71 comparing October 2015 to October 2016 prices. On a year over year basis, this is a decrease of over $440 per head.
By now you probably want to go curl up in a corner. Don't do that just yet. The sky is not falling and there are a lot of factors that we can point to that show that in fact, the sky is not falling and that there are great opportunities for utilization of the products we produce and sell on a daily basis. Let's take a look.
First, input costs are down substantially. While cattle markets are down, we can take some solace in the fact that many input costs are down in price at virtually the same percentage.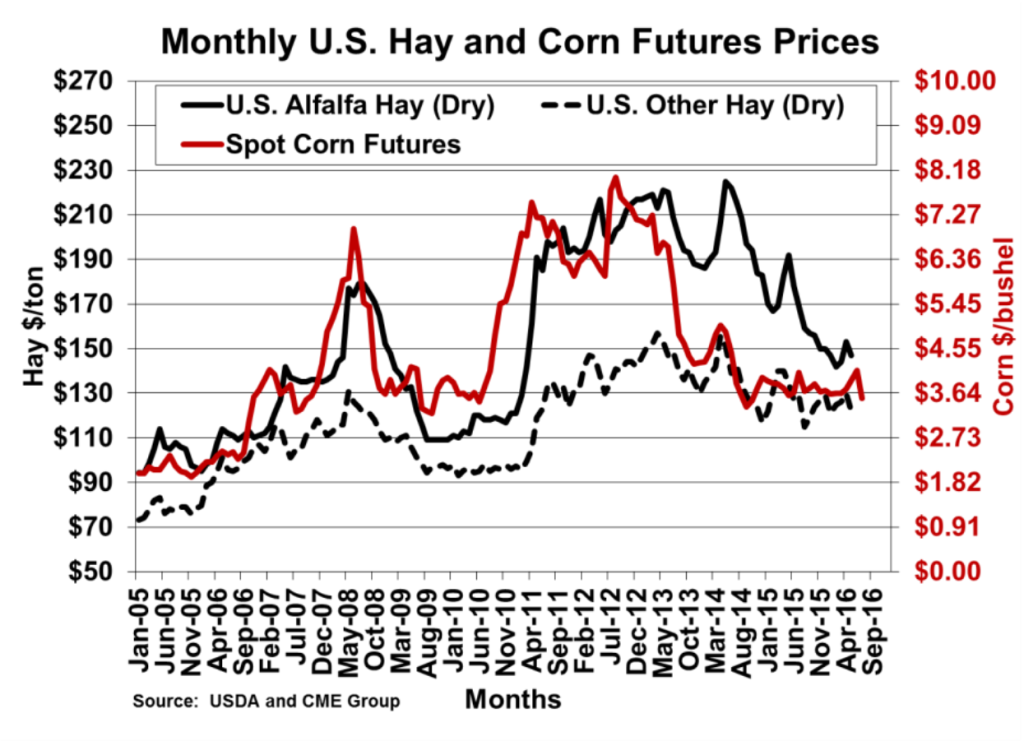 Second, grazing and forage production conditions in most of our market areas have been superior this year. Fortunately, spring and summer precipitation has been above normal for most of the geography that we cover. Therefore, most cow/calf producers will be able to take advantage of increased production when it comes to winter grazing, grass hay production and CRP hay production in order to keep costs in check.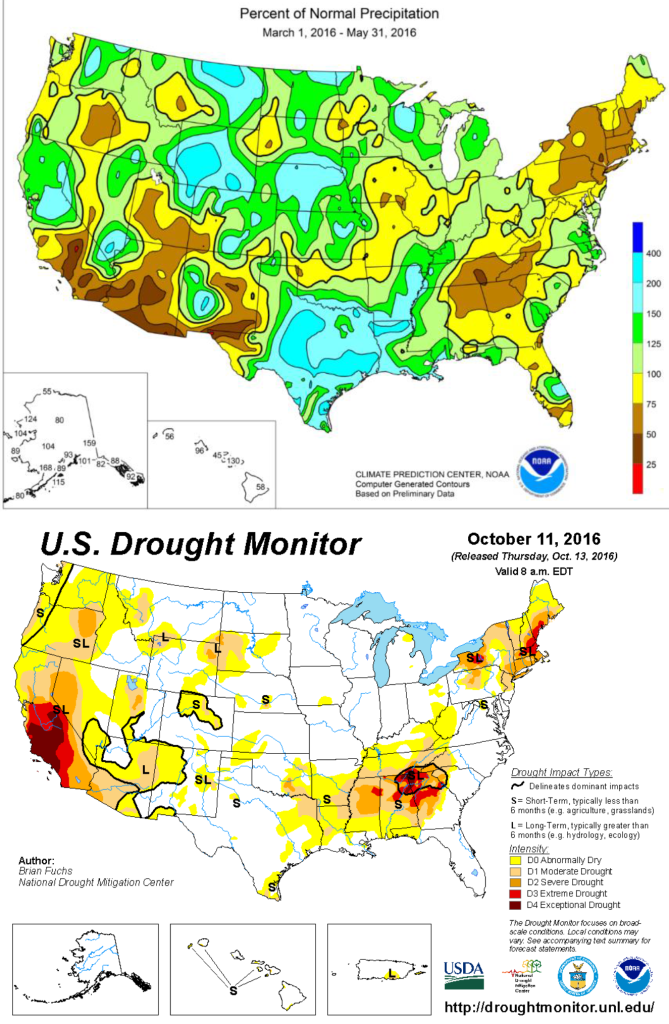 Finally, the numbers don't lie. There should be continued profitability for cow/calf producers that manage their operations to be efficient in production and can manage to be a "high return" or "average return" producer. Many people hear the term "high return" producer and think it means producers in these categories don't purchase inputs for their cattle. That is not necessarily the case. While keeping costs low will be key to profitability for cow/calf producers at this point in the cattle cycle, it does not mean that we don't have a fit with our products and nutritional programs that we provide. More on that later though, for now, let's take a look at the reality that cow calf producers are currently dealing with.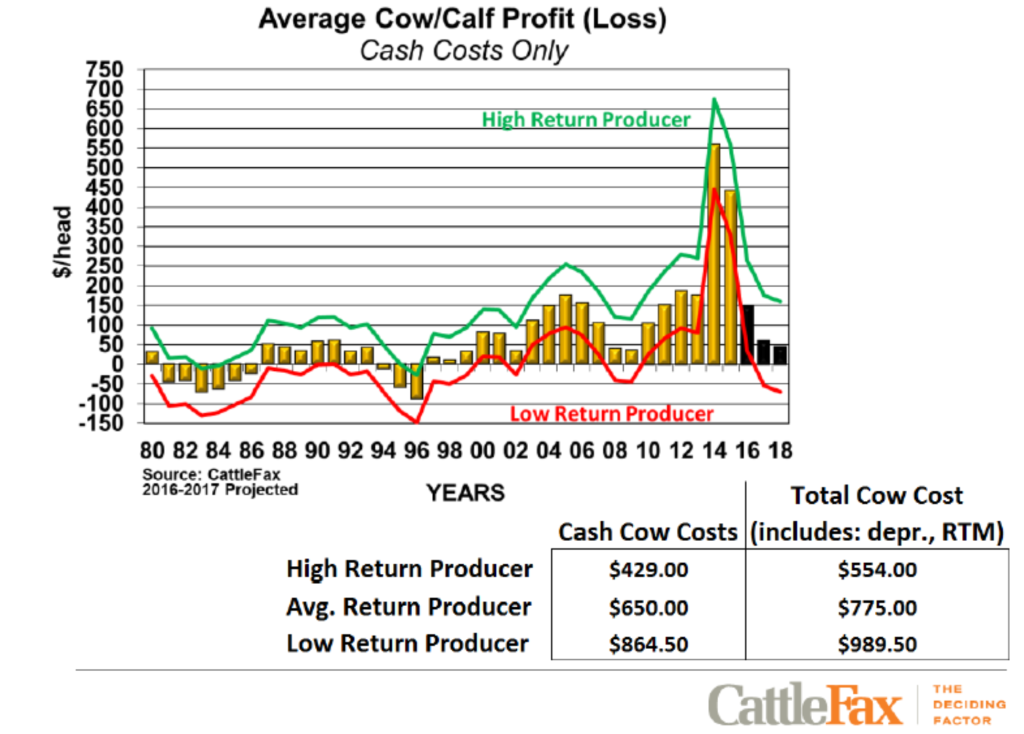 The above charts show past profitability and carrying costs for cow/calf producers in three different categories (High Return, Average Return and Low Return). The cow costs listed are based on a survey in 2015. If we assume costs will be similar moving forward, cash cost break-even prices for a 550# calf would range from $157.18/cwt for "low return" producers to $78.00/cwt for "high return" producers with an average break-even of $1.18/cwt on a 550# calf. So the question becomes, if that is the break-even, what can cow/calf producers expect for revenue on a 550# calf in 2017?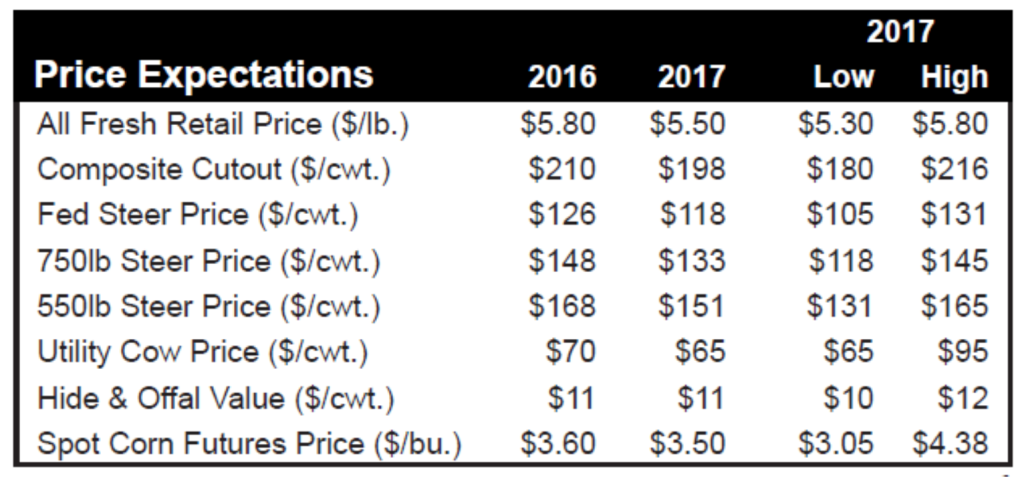 The chart above shows the expected average price and range of prices on a 550# calf for 2017 based on the Cattle-Fax Long-Term Outlook released in late July of 2016. Since then, these projections have been updated to a range of $120/cwt to $155/cwt for a 550# calf depending on the point in the seasonal cycle. Based on that, if we use $137/cwt as an average and an average production cost of $118/cwt, cow/calf producers should recognize a profit of $19/cwt or $104.50 per head. While that is not the level of profitability this segment of the industry has seen in the past year or two, it is still profitable and that is important.
So, where do we fit in all of this? As providers of supplements and nutritional programs to help maximize forage utilization, we need to realize that the products we supply fit in this market and in the current point in the cattle cycle. Whether it is Loomix or QLF products, the point is that we provide cow calf producers tools to utilize and get the most they can out of lower cost, poor quality forages while helping ensure cattle in the herd perform at a peak level of their capability.
In most cases, most spring calving herds weaning has occurred or is about to occur. We all know that most cow herds are on a schedule where right now and for the next 90 to 120 days is the most economical time to put weight on females in the herd. In fact, you could argue that the most economical and highest ROI nutritional program for cow/calf producers would be to make sure they are incorporating liquid supplementation into their feeding program right now and moving forward especially when you consider that most cow herds are still in a grazing situation on grass or may be going to crop aftermath soon. The point is, by supplementing forage at this point in the production cycle, this is one time where you can have a major impact on the productivity of the herd now, through calving and breeding and on through next year's weaning.
I titled this article "Is there Hope?" Yes I was being facetious but I also know if you have spent much time talking to producers and even ourselves as salespeople and dealers lately, it can seem like there isn't hope. The reality is there is hope and the time to be talking to producers about what we can provide is now, because in many ways right now is when our products and programs can have the biggest impact on the producers herds productivity and in the end, the producers profitability.