Loomix HF
Intended for growing and finishing cattle on a total mixed ration.

Benefits of HF 15% may include…
Additional or replacement energy source
2.25 times the energy value of carbs and proteins from fat
Helps condition the ration
Economical source of fat
Weaning/Arrival Products
Does calves' health appear compromised at weaning or transitioning into the feedlot? Loomix offers multiple products that can benefit calves during this critical production point. Loomix
Weaning/Arrival products are specifically formulated to meet the additional requirements of the highly stressed calf. In addition to providing complexed trace minerals, Loomix Weaning/Arrival products can also be formulated to include Cell-Rate®, CitriStim®, RumeNext®-Beef or Celmanax. Loomix Weaning/Arrival products include:
Loomix Cellarat-ORE C.P.R. w/ CitriStim
Loomix Cellarat-ORE C.P.R.
Loomix Ore-Bac® Starter
Simple Blends
Looking for specific liquid ingredients to incorporate into a total mixed ration (TMR)? Use Simple Blend products to complete the feeding program, such as to provide additional energy in the form of fat or sugar or to control ration dustiness.
Hay Treat
Hay Treat is a versatile product that can be poured directly on to forage bales or added to a TMR. Hay Treat is a molasses-based supplement that increases palatability of forages and can add condition to a ration. Hay Treat is fortified with crude protein, minerals, and vitamins.
RumeNext-Beef
The Natural Way to Enhance Performance – RumeNext-Beef is a natural feed additive based on highly-concentrated plant oil
extracts of cinnamon, cloves, and chili peppers. RumeNext is a proven natural alternative to ionophores for improving rumen efficiency which may lead to better growth performance, body condition score, and overall production.
For more information, click here!
Calcium Suspensions and Customs Mixes
Loomix calcium suspension products are complete supplements specifically formulated based on ration analysis and cattle nutrient requirements. The result is a supplement that complements the overall ration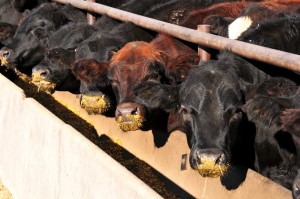 profile and meets cattle's nutrient needs. Loomix calcium suspension and custom mix products can also be formulated
with approved additives, providing an all-in-one package of protein, macro
minerals, trace minerals, vitamins, and approved additives.
Ration Formulation
We can help formulate the most cost-effective ration while maximizing performance. Let us do the work for you! Staff Nutritionists can analyze and formulate rations to help you meet your production goals in the most cost-effective manner based on the resources of your operation.