As the price of oil has risen, so too has the cost of road construction using petroleum-based products. That—along with increasing environmental concerns—has made finding a viable alternative a priority! Road Genesis™ is that alternative, and it is produced by Alliance Liquid Feeds®, a trusted provider of quality Loomix® liquid products that date back 50 years. Made from many of the same ingredients used to feed livestock and other wildlife, Road Genesis is cost-effective and proven to stand the test of time for jobs big and small.
Benefits of Road Genesis
A non-petroleum based soil stabilization and dust abatement industrial product.

Safe handling, easy to apply, and cost-effecitve.

Provides both soil stabilization and dust control to help build a structurally sound road suitable for a steady flow of heavy traffic.

Sub-base treated soil is less likely to rut or break-up during spring freeze-thaw cycles, creating an excellent foundation for concrete or ashpalt paving.

Even in the event of extreme moisture from snow or heavy rainfall, Road GenesisTM helps keep the road pad firm—adding life and body to the original road.

Can be used in many areas, including, but not limited to: rock quarries, coal mines, oil field roads, oil field pads, ranch roads, deer lease roads, parking lots, fairgrounds, arenas, livestock auctions, feedlots, and gravel driveways.

Alternative topetroleum-based products; providing non-toxic ingredients.

No unpleasant aroma associated with traditional road products.

Provides a safer and cleaner site by minimizing dust clouds which enables better visibility on dirt roads, helps reduce road repair with hardened surfaces, and cleans up easily with water.
Application for Dust Control
Road dust control requires two to three passes staggered out over several hours, or days,depending on climate.

Ensure complete saturation before applying the next coat. This will allow for a better, well-rounded road bond and surface penetration by applying unified layer.
Application for Road Stabilization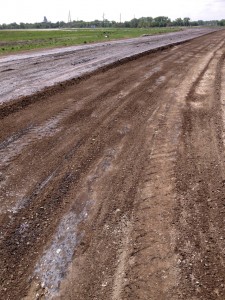 Apply to the road using a maintainer or similar tool to implement a wind row effect, allowing the product to be mixed in thoroughly. If possible, use a milling machine to further mix the material into the aggregate.
Make another pass with Road Genesis using the same wind-row technique. A total of three passesshould be made using this method.
Shape and roll with a rubber/metal wheeled roller.
Once the road is shaped and/or rolled, the fourth and final "seal coat" will be applied to the hardened surface. This fourth coat can be applied prior to rolling or after the road is completely finished.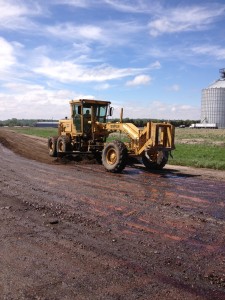 Equipment Needed
Truck with spray boom

3,000 gallon storage tanks

Blade/Grader

Ripper (for road stabilization)